Toubkal trekking 8 days
Day 01: Arrival at Marrakech:
Airport and transfer to the hotel.
Day 02: Marrakech-Asni - imi Oughlad-Imsker 1800m:
From the hotel in Marrakech, Km 54, meet our team Carriers, cook, after loading the mules, towards the valley Imenane continuing to rise slowly to Imeskar. Night at the inhabitant. Duration: 2H walk 300 m climb.
Day 03: Imeskar - Ousertek - Gliz 2300 - In capita (2000 m):
We assemble on a mule trail across the small valley in the shadow of several huge walnut trees, an easy climb without technical difficulties nap after lunch and village Ousertek then we continue to climb towards the village of Tidili night and the small village of Gliz - nice quiet and calm crops terraces
Duration: 5h walk / vertical gain of 600m.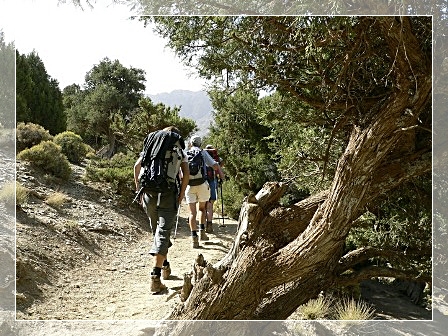 Day 04: Gliz - Col Oukaimden col Eddi (2900 m) Ouaneskra 1900m to heel:
A short climb to cross Tizi-n-Oukaimden by a forest of juniper, a magnificent view over the valley Ousrtik and distant peaks of mass Toubkal then by passes the mountain of Okaimden 3700m. Lunch on shortly after the station Ski d the highest in North Africa. And by the collar Eddi join the beautiful Valley High Atlas Tachddirt splendid view of the mountains and the valley an easy descent back to our village at night lodging Ouaneskra.
Duration: 6 hours of power vertical gain of 700m. And negative 1300 m.
Day 05: OuaneskraTamatert Col 2260 m Imlil (1750 m) 4H:
A good step, we walk on a trail mule very easy, that runs from above the beautiful valley Imenane, at the foot of the summit Akswal 3200m, panoramic view from all sides of the valley and the valley Imenane Ait misane… lunch Col panoramic view of the Toubkal, Imlil, Tizi Mazik….. Descending to Imlil, a pine forest and village Tamatert. Night at the hostel lepiney in Village Mzik, free time to do laundry and magnificent terrace overlooking Toubkal.
Duration: 5h walk / vertical gain of 400 m. and negative 500m.
Day 06: Imlil Tiz Mazzik 2460 m Id Assa In 1800 :
During the morning to meet a lot tizi Mzik shepherd's col.climb the easy path Carriers without technical difficulty until the lunch meal apérs Col, Azib tamsoulte. afternoon to visit the cascade of IOrouliden then descent to imlil… discovered the beautiful valley Azadne
Duration: 5h walk / vertical gain of 700 m. and negative 660m.
Day 07: Id Aissa 2200m Col de Tacht Imioughlad - back in Marrakech:
We walk on top of the valley of Azaden, the most beautiful valley Toubkal, the mountains in beautiful colors red, green, cross the 2200m Tacht pass. Panoramic view of our route and then long descent easy to circles of a drill junipers and oaks, lunch in Imi ouGhoulad then back to Marrakech by road of Asni. Free time to visit the town. Night in the hotel with a small lunch;
Duration: 3 hours walking / vertical gain of 400 m. and negative 700m and Route 1 hour.
Day 08: Transfer to the airport.